This year's San Diego Comic Con (SDCC) was hopping at Nintendo's Family Lounge, Petco Park, and Hasbro's Toy Booth. Lots of announcements and exclusive YO-KAI WATCH stuff were available to see at the con this year. There was loads of YO-KAI WATCH goodness to cover today, and I will be recapping everything that happened over the busy weekend at the con.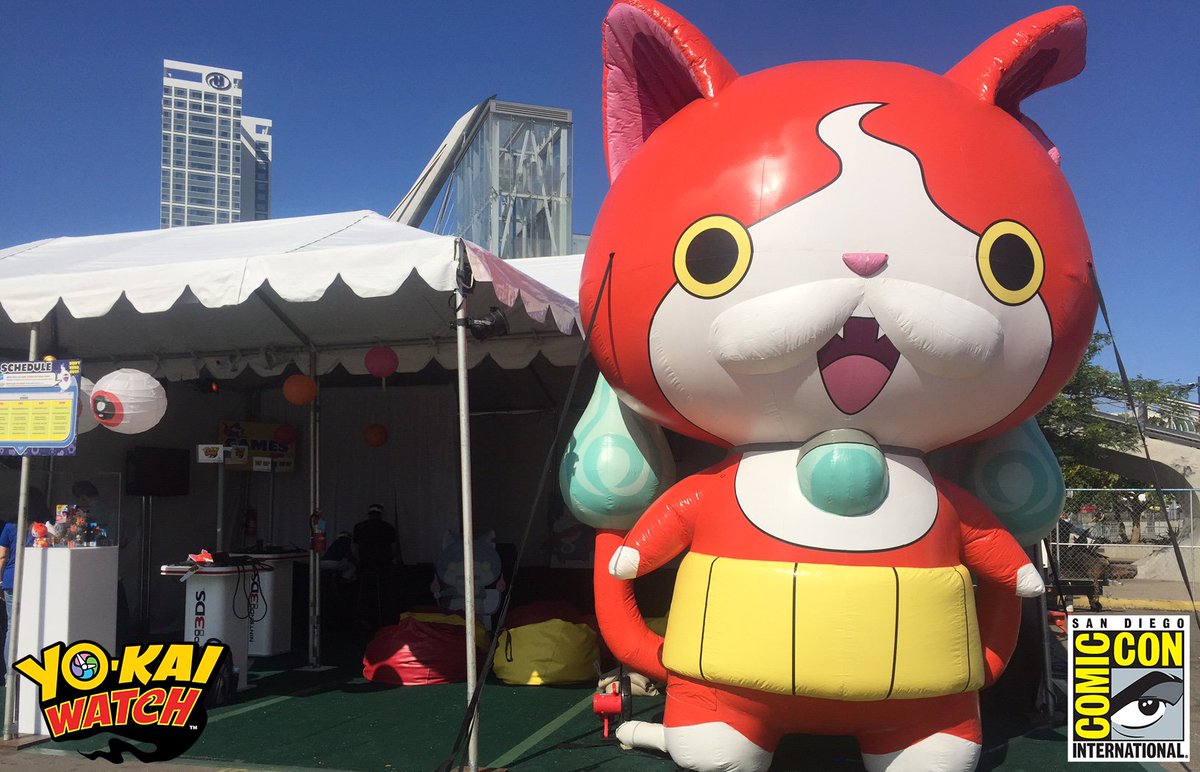 Outside of SDCC, you could visit an interactive area for YO-KAI WATCH with a giant inflated Jibanyan standing nearby. Here, you could preview the available YO-KAI WATCH toys, try the YO-KAI WATCH 3DS demo, play YO-KAI WATCH Wibble Wobble's demo, learn the dances of YO-KAI WATCH, take pictures with Jibanyan, learn how to play the YO-KAI WATCH Trading Card game, and watch an exclusive screening of some of Season 2 of the YO-KAI WATCH anime.
At the YO-KAI WATCH Booth at Play Nintendo Family Lounge, you could demo YO-KAI WATCH Blasters (The side-mini game for YO-KAI WATCH 2, which you find footage of here), preview the available and upcoming merchandise, watch the anime, and play the YO-KAI WATCH 3DS demo. For tour footage of the Play Nintendo Family Lounge, click here.
In addition, there was a huge YO-KAI WATCH Voice Actor Panel that as held on Friday. In this VA interview, Brent Pendergrass (Roughraff, Blazion, YW Summon Singer) interviews Alicyn Packard (Jibanyan), Joey D'Auria (Whisper), and Melissa Hutchinson with questions about their voice work, Season 2, as well as some questions asked from the audience. The details of the interview are summarized below, but you can watch the video footage of the panel here: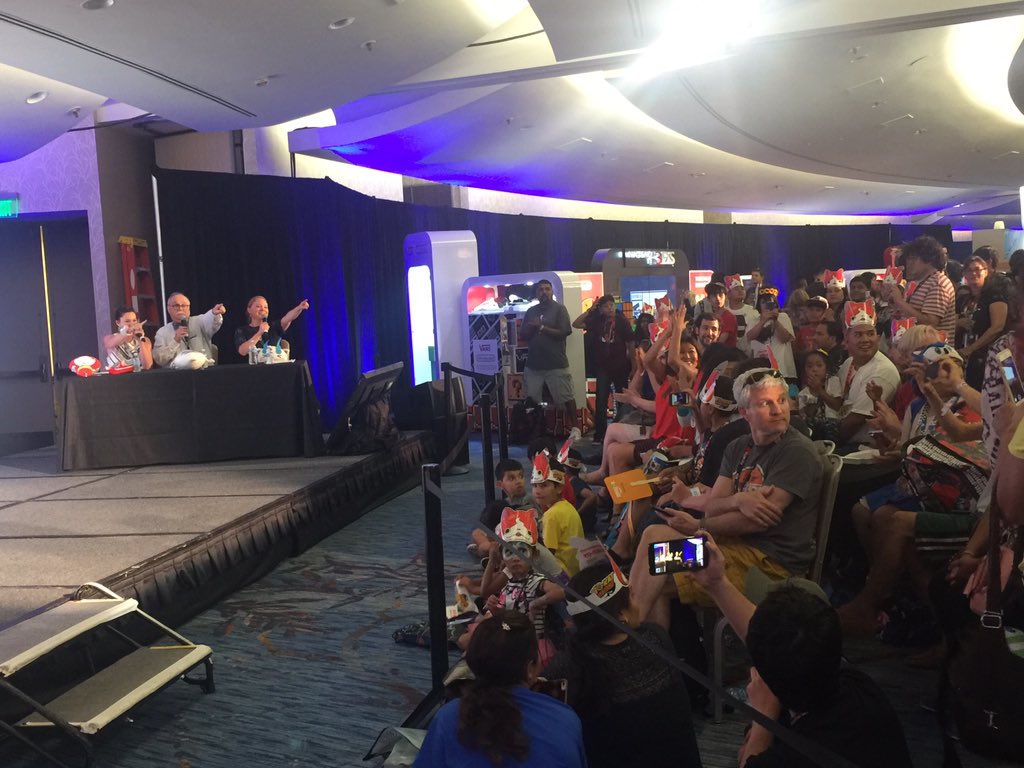 Some interview highlights:
– YO-KAI WATCH was very fun to work on for Alicyn, Melissa and Joey thanks to Mark Risley (An internationally famous animation director).
– Joey says that the YO-KAI WATCH anime was different from other shows he'd worked on, due to looping, which is trying to make the words that the director gives you in the script fit the lip flaps of animation that has already been done in another language.
– Alicyn says she could play six different YO-KAI characters in a single recording session day, rotating the voices in her head.
– Season 2 for all three voice actors has been intense and the humor is going in another dimension.
– Melissa and Brent talk about how they get to know their characters more through Season 2, resulting in smoother recording sessions.
– Melissa and Alicyn intertwine in voice vibes, as Alicyn voices Jibanyan while Melissa voices Baddinyan.
– Melissa does the voices for Katie Forester, Walkappa, Tattletell, and Kyubi.
– Joey does the voices for Robonyan and Whisper.
– Brent plays the voices of Nosirs, Mark knew that Brent did not like boogers or snot. So he purposely passed it up as "That s'not it!" to tease Brent.
– Alicyn plays the voice of Nate's mom, Cheeksqueek, Insomni, Leonardo Decaprinyan, Wigglin, and Rhyth.
– Alicyn will also be the voice actor for Shmoopie in the next Season.
– Melissa and Joey are excited for Komasan's next mini adventures with the detective series with Komasan and Whisper.
– Alicyn's first animated TV show was the Mr. Men Show, where she played Little Miss Sunshine, Little Miss Whoops, and Little Miss Naughty. Through that, she went to college at Boston, and started doing radio, acting, and improve her voice acting skills, wanting to pursue it as a career.
– Joey worked on a show called the Three Musketerriers who did Cardinal Gooshlu and an assortment of other petitioners to the kingdom. That show is how he got started on looping and lip flapping.
– As a child, Melissa always did voices and mimicked everything in her life. I always wanted to be an actor. She envisioned a on-camera career and did theater growing up.
– Looking back to her first audition and putting together the fact that Bart Simpson was done by a woman was an amazing thing for Melissa, which pushed her career forward. Her very first job was for an Atari game for Superman.
– When asked if the voice actors played the YO-KAI WATCH video games Alicyn and Brent have played Wibble Wobble. Brent has played over 90+ hours on the first YW game. Melissa has not gotten a chance yet, and video games remind Joey too much of his old age to play them.
– Alicyn's favorite characters are Cheeksqueek and Shmoopie.
– Joey's favorite character is Wazzat.
– Melissa's favorite characters are Dismerelda, Tattletell, and Whisper.
At Hasbro's booth, there was a huge gallery of YO-KAI WATCH merchandise in display, including available and upcoming ones. Some of the upcoming merchandise include the YO-MOTION WATCH, the next set of Yo-kai plushies, YO-MOTION Medal Moments, YO-KAI WATCH TCG, and Series 3/4 medals. The YO-MOTION merchandise will come out on October 1st of this year.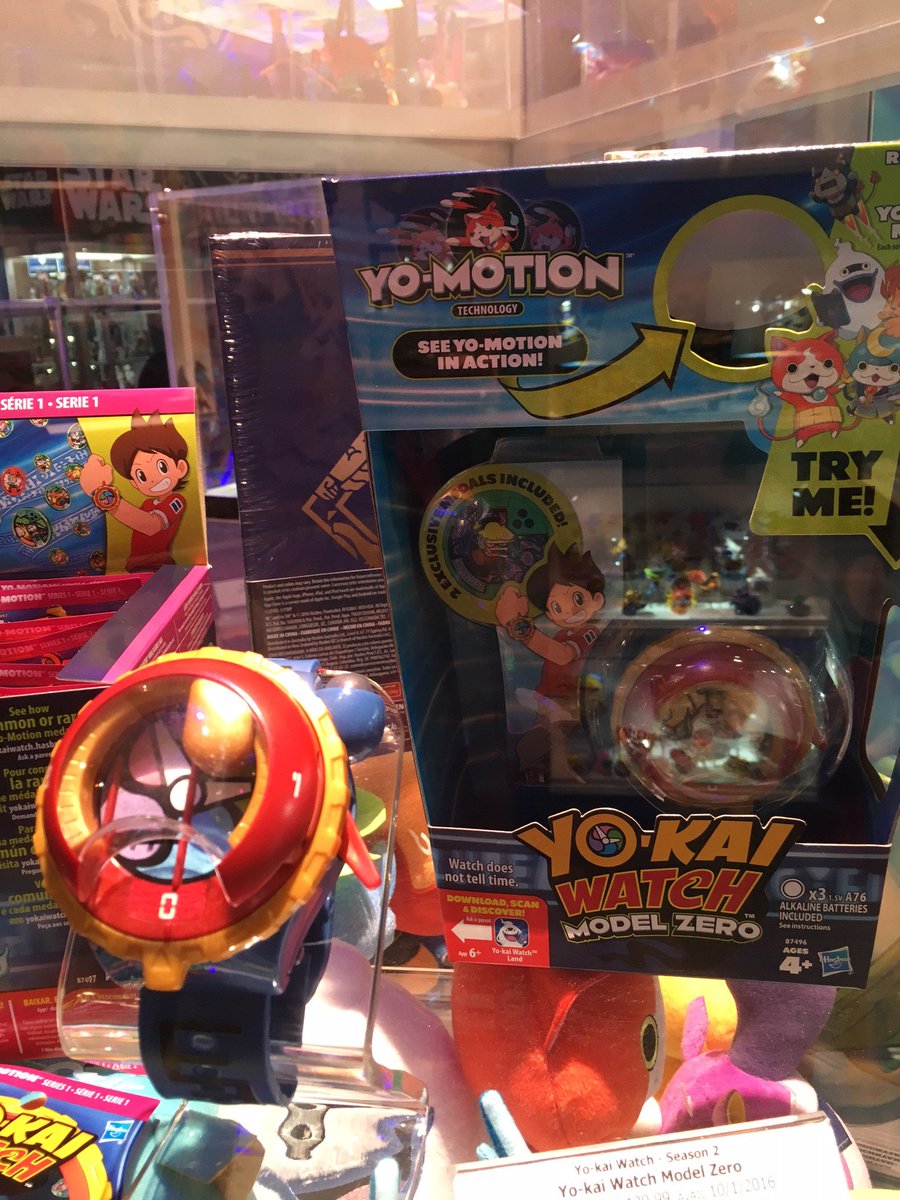 \
In addition, during certain times, attendees could try and learn the upcoming YO-KAI WATCH Trading Card Game. The Hasbro booth also sold the Gemnyan medals, exclusive for attendants at San Diego Comic Con. Do remember that the Dianyan figures and Gemnyan medals will be online on Hasbro's online shop sometime later this week after the con. If you want to get those Gemnyans to complete your toy medallium, you better keep sharp eyes on Hasbro website.
And that's a wrap for the recap. We hope that those who came to see YO-KAI WATCH stuff at the con enjoyed all of the exclusive stuff and previews of the upcoming goodies coming this year. Let us know if you have been in the con and bought the exclusive YO-KAI WATCH merchandise demo. How was the YO-KAI WATCH Blasters demo and did you enjoy the YO-KAI WATCH VA Panel? We would love to hear it!
Source:
http://www.prnewswire.com/news-releases/yo-kai-watch-season-two-premieres-august-1-on-disney-xd-with-two-week-programming-event-new-product-hitting-stores-300302519.html?tc=socialpost