BIG news just popped with Hasbro showing off their newest and upcoming Yo-kai Watch toys at the 2016 New York Toy Fair. Fans can definitely look forward to a large selection of new Yo-kai Watch toys on the horizon. We will go over all of the toys that have been revealed thus far, sit tight and take a tour with screenshots provided by COOL TOY REVIEW, OAFE, Stitch Kingdom, and Kotaku:
Some of the plushies displayed here are new! Now there are more Yo-kai to cuddle with! These new plushes include Blazion, Noko, Walkappa, and giant size plushes of Jibanyan and Whisper.
One of the new transforming figures shown here is Robonyan, who transforms from his original version to the race car first seen in Robonyan's debut from the YW anime, and Whisper, who turns into his form of the human butler as seen in Cheeksqueek's episode.
A new line of Yo-kai Watch toys has also appeared. These new electronic figures let you interact with them to make cool sounds. The Whisper toy is used to play fortune games while the Komajiro toy is used to play rap songs and remixes. Not too many details have been given for Jibanyan's, although based on the looks of it, it seems to be a figure involving Jibanyan's Paws of Fury.
Although there are Jibanyan and Komasan figurines already released, there is a new Robonyan figurine that is coming soon as well, ready to be customized with facial expressions! ROCKET PUNCH!
America will be getting a version of the trading card game different from the Japanese version. This includes a new set with American art and different ruleset! It's time to DU-DU-DU-DU…
…
DU-DU-DU-DU-DUEL!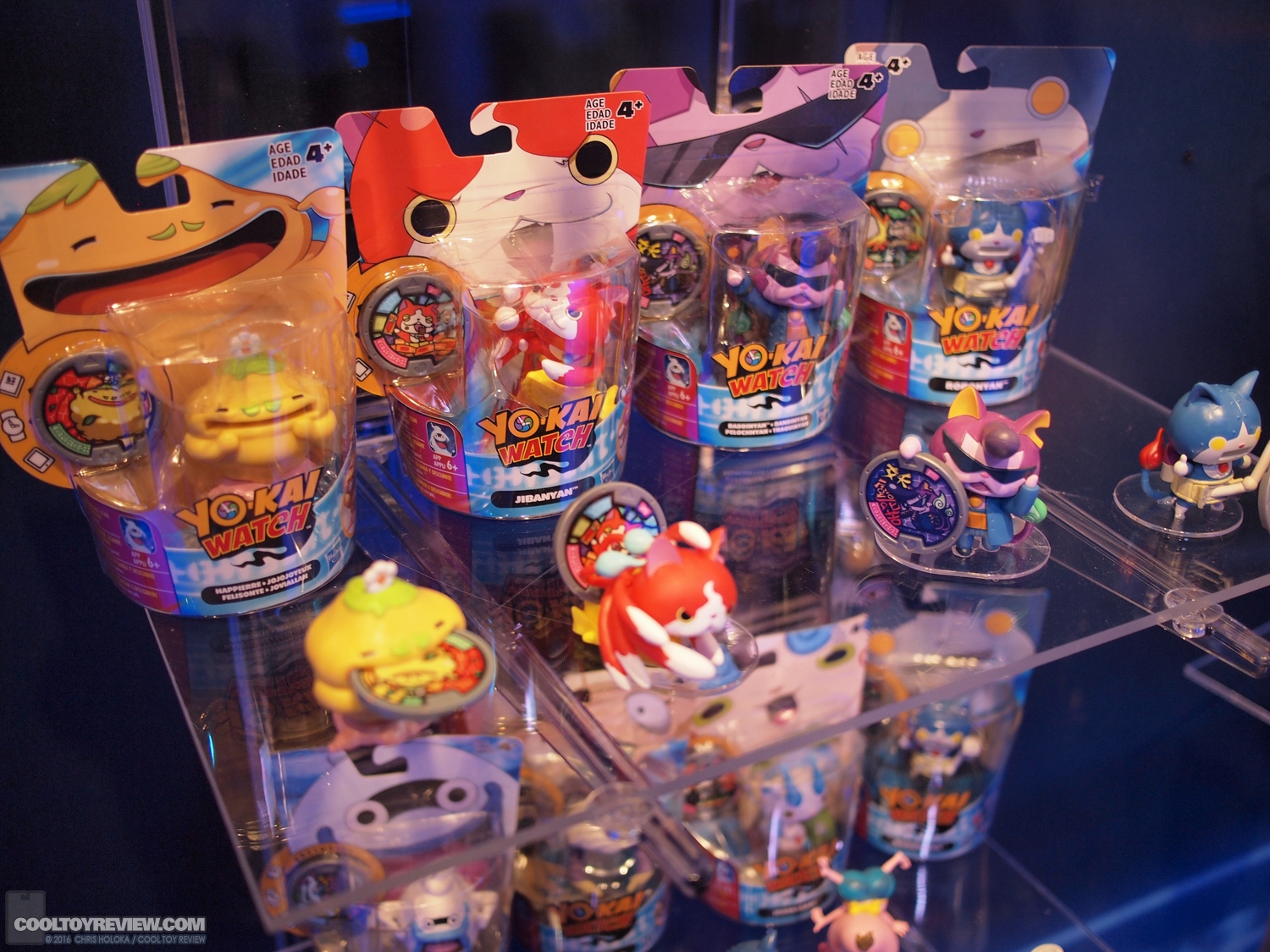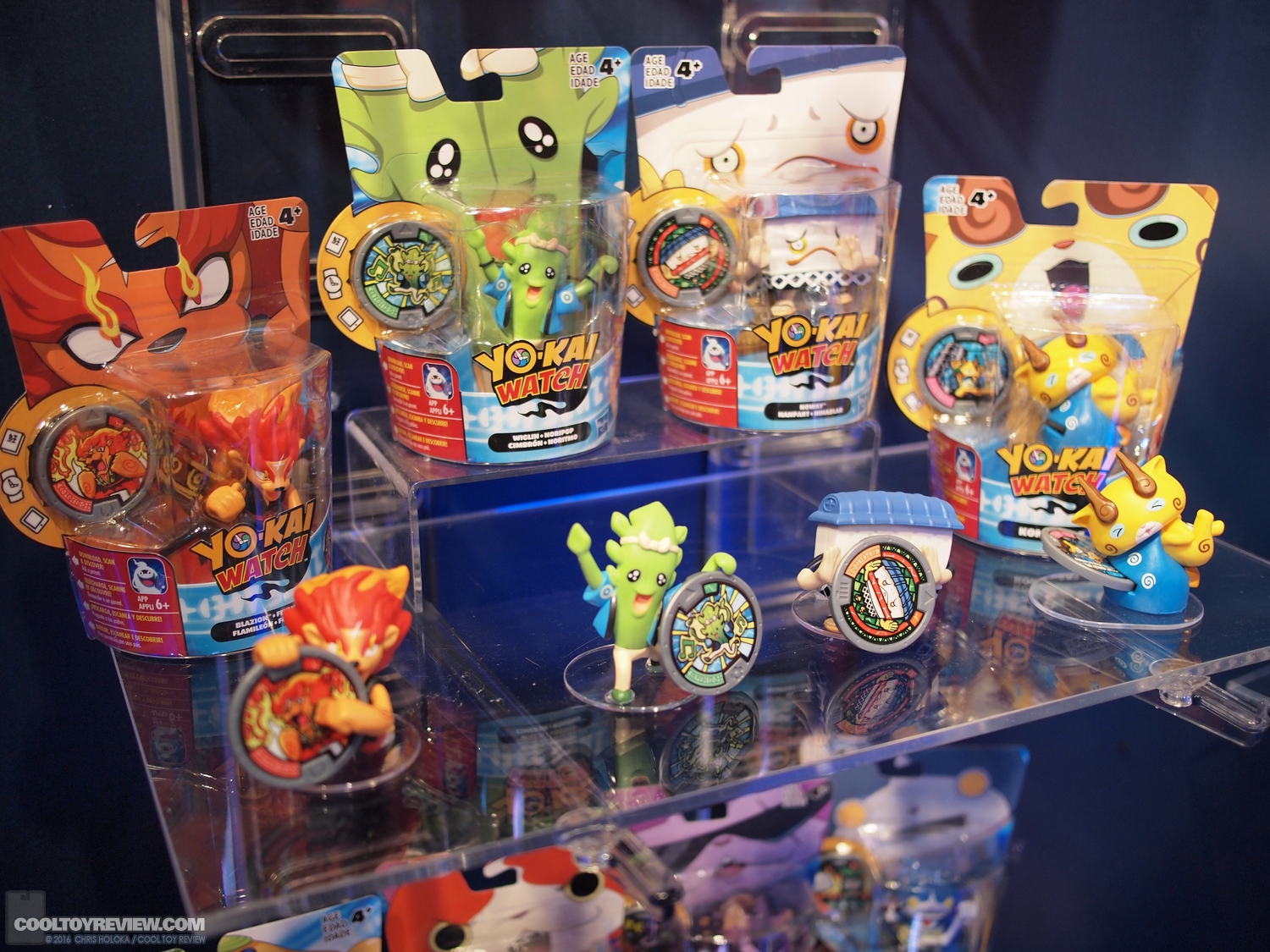 A vast amount of Medal Moments have also been showcased. All of which include Happiere, Paws of Fury Jibanyan, Baddinyan, Robonyan, Blazion, Wiglin, Noway, Komajiro, Cheeksqueek, and Wazzat. It is a great way to showcase your medals in style. There's noway you can put down an offer like this, especially for the $4.99 price!
And last, but not least, is a big one!
That's right! A new version of the Yo-kai Watch has just been unveiled! This watch is different from the original version, instead of playing tribe sounds, this watch projects and displays a 3-frame animation for the medal. You can watch footage of the watch here!
Of course this new watch is not without its blind bags coming along as well! The YO-MOTION medals will have a separate line of blind bags that you can buy. There are hundreds of medals to collect, with plenty of animations to watch when summoning the Yo-kai. Now there is even more of a reason to get these toys!
There is also Series 2 packs coming for the original YO-KAI WATCH as well! Don't confuse the Series 2 medals with the YO-MOTION medals, these are different and separate blind bags!
For those who own the original toy watch, they can customize it with these accessories! Want to give your watch a swirly or cat-like look that'll get people to say, "OH MY SWIRLS?", now you can with these!
These are all of the YO-KAI WATCH toys that Hasbro has revealed thus far. We will cover the upcoming merchandise as well in a later article! Are you excited for it as well? Let us know your thoughts by taking this poll, focusing on which toys you are buying!